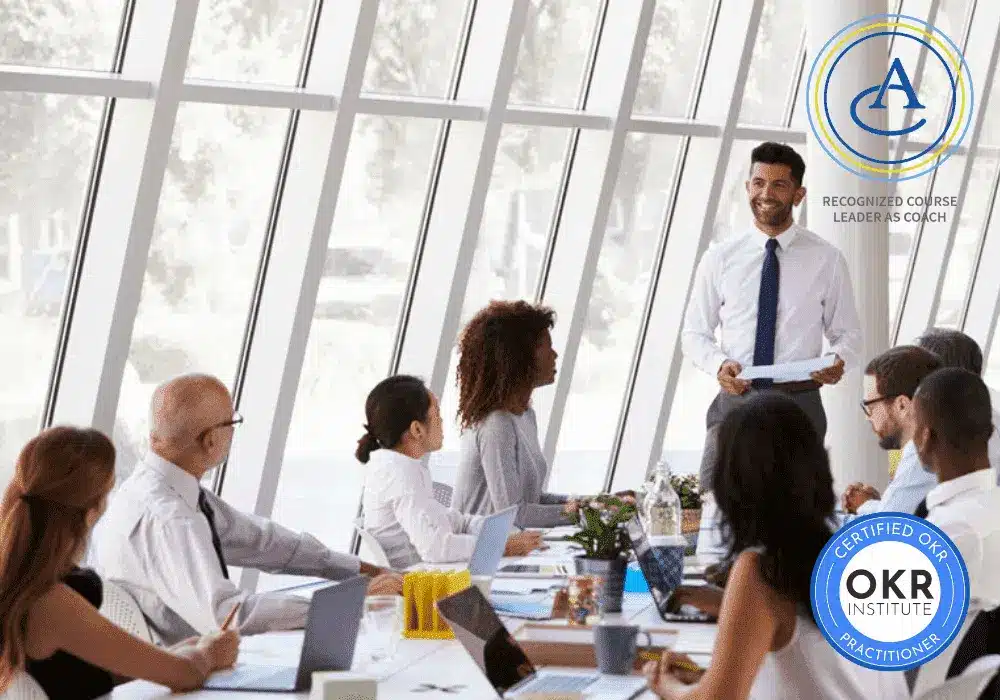 OKR Practitioner | C-OKRP® (Dutch & offline)
OKR Practitioner | C-OKRP®
Word een gecertificeerde OKR-Practitioner en help jouw organisatie om een duurzame implementatie van OKR's te realiseren.
De OKR-methode zorgt voor draagvlak en een duidelijke communicatie over de strategie en doelstellingen. Er wordt focus aangebracht en autonomie gecreëerd die leiden tot een resultaatgerichte bedrijfscultuur die team-work stimuleert. Uitdagende Objectives and Key Results definiëren lijkt eenvoudig maar vereist oefening en een goed begrip van de achterliggende theorie om tot een en succesvol implementatie te komen. Al deze elementen komen aan bod in deze training waar theorie en praktijk worden gecombineerd.
Deze training wordt ondersteund met een online E-learning omving. Hier vind je de volledig training terug ondersteund met video's en het online examen. (Incl. 2 pogingen) Het trainingsmateriaal en examen is in het Engels, de training zelf wordt in het Nederlands gegeven.
Waarom deze training voor jou is.
OKR's ondersteunen niet alleen de snelheid van uitvoering, maar ook de kwaliteit. OKR is een flexibel kader voor het stellen van doelen. Het is erg belangrijk om de gedachten achter de OKR's te begrijpen om effectieve OKR's te kunnen definiëren.
De OKR-methode ondersteund agile principes en is uitstekend te combineren met bestaande agile implementaties zoals scrum, SAFe en vergelijkbare frameworks. Het toepassen OKR's brengt nog meer focus aan, helpt bij prioriteren en stimuleert autonomie. Je zult met duidelijke en heldere definities je doelen en strategie kunnen communiceren binnen je organisatie en teams.
Wat komt aanbod
Basis van OKRs
Schrijven van sterke OKRs
Gebruik van OKRs verschillende teams, afdelingen en industrieën
Effectief uitvoeren van strategieën met OKRs
In lijn brengen Objectives and Key Results binnen de organisatie
Het meten en volgen van resultaten en doelstellingen
De verschillende bijeenkomsten (check-in & feedback)
De OKR-cadans (Cycle)
Prestatie en resultaat beoordelingen
Leren van OKRs
Wat kun je na de training
Je bent na het behalen van het examen een gecertificeerd OKR Practitioner en kunt dan:
Succesvol OKR's lanceren en implementeren in je organisatie of team
Je organisatie helpen bij het vertalen van de strategie naar concrete doelen
Maak en schrijf doelstellingen die aansluiten bij de strategieën, visie en missie van het bedrijf.
Breng jouw hele organisatie op één lijn met een gemeenschappelijke strategische richting.
Faciliteer teams in een zinvolle dialoog terwijl ze hun eigen OKR's creëren en afstemmen.
Creëer een gezonde cadans om de OKR-cycle op te bouwen en te laten groeien.
Je kunt OKR-scoring / -meting inrichten.
Effectieve OKR Coaching gesprekken voeren.
Teams helpen om nog resultaat gerichter te presteren.
Wat is C-OKRP® CERTIFICAAT:
De OKR Practitioner-certificering stelt je in staat om jouw expertise te delen binnen jouw bedrijf. Je verwerft de kennis om met de OKR-methode, tools, en vaardigheden je te onderscheiden van andere professionals. Met een gestructureerde aanpak, die je in staat stelt om de OKR-methode op een duurzame manier succesvol in jouw organisatie te implementeren
De C-OKRP® certificering is een officiële certificering en wordt uitgegeven door het OKRinstitute.org en is geaccrediteerd en erkend door Association of Coaching.
Centrum voor Zelfsturing verzorgt deze training, beschikt over ervaren Agile trainers en is Gold Partner van het OKRinstitute voor de Benelux.
Deze training is geschikt voor rollen zoals:
Scrummaster
Product Owner
(Agile) Coaches
Teamleiders
Projectmanagers
Strategie-experts
HR-medewerkers
Management & Directie