Certified OKR Practitioner (C-OKRP®)
Become a certified OKR Champion in your organization to master a sustainable implementation of OKRs
OKRI conducts a total of five live sessions (each session lasts 1.5 hours), with one session held every week. Participants will have access to e-learning modules and an online certification exam.
This course comprises the whole knowledge and methodologies of the Objectives & Key Results (OKRs) system and is based on best practices from the real business environment.
Learn how to implement OKRs successfully in your organization. Our international OKR coaches will present all proven international OKR methods to you, so you are able to master – as an OKR Champion – all challenges to successfully align teams and employees and execute your strategies in the most effective and sustainable way.

Champion OKRs with your teams and organization.

SKILL LEVEL
BEGINNER & INTERMEDIATE LEVEL
LANGUAGES
ENGLISH
LESSONS
5 LIVE SESSIONS & E-LEARNING
DELIVERY
PRESENTATION & EXERCISES
CERTIFICATE
'CERTIFIED OKR PRACTITIONER' UPON COURSE COMPLETION & EXAM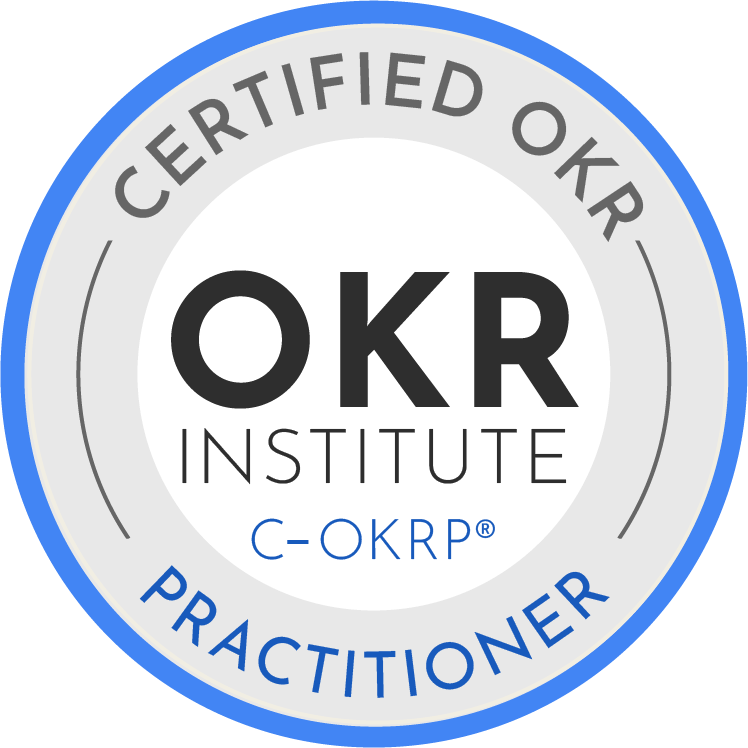 Understanding OKRs




Drafting powerful OKRs




Using OKRs in different industries and departments




Aligning OKRs




Measuring & Tracking OKRs



OKR Check-ins and Feedback




OKR Cycle




Performance Appraisals




Learning from OKRs
Behind every successful OKR implementation stands a dedicated OKR Champion. Consider this person to be your in-house OKR Expert as well as the driving force behind the effort. Among the champion's duties are: Guiding and synchronizing the OKR cycle, inspiring and motivating your employees, and collaborating with the C-level suite on the progress of achieving the Objectives and Key Results. It is crucial for the success of your OKRs effort that your Champion receives the training for a smooth and successful implementation of the OKR framework.
BY THE END OF THIS OKR WORKSHOP YOU WILL LEARN:



Successfully launch and implement OKRs in your organization utilizing our OKR process.




Get your business laser-focused on what matters most.




Craft and write Objectives that align to the Company's Strategies, Vision & Mission.




Learn to set outcome-driven OKRs.




Align your entire organization around a common strategic direction.




Facilitate teams in meaningful dialogue as they create and align their own OKRs.




Conduct mid-quarter and quarterly reviews for cross-functional learning.



Create healthy habits to build and grow your OKR muscle.




Set Industry / Team specific OKRs.




Set the right OKR Cycle for your organization and teams.




You will be able to set OKR Scoring / Measurement.




Learn the difference between KPIs and OKRs and why we need both systems.




Build High Performing Teams.




Set and conduct effective weekly check-ins.
The Certified OKR Practitioner recognition empowers you to share your expertise in your organization.
You will acquire the methods, tools, skills, and necessary knowledge to differentiate yourself from other professionals through a structured approach, that enables you to implement the OKR framework successfully in your organization in a sustainable way.



C-Suite Executives




HODs




HR Practitioners




Team Leaders



Agile Coaches




Strategy Experts




Scrum Masters, Product Owners




Team members who use OKRs and want to master those



Has a thoroughly comprehensive course outline which more than covers the basic coaching skills.




Exceeds the required number of hours for this level of "Association for Coaching Course (AC)" recognition.




Is underpinned by the AC Global Code of Ethics.




Includes a coaching model which requires participants to demonstrate the ability to listen and understand, and then question effectively.



Provides a balance of theory, group discussion, practical exercises, tutor and participant feedback, coaching practice and personal reflection.




Is supported by a good selection of self-study materials for participants.




Encourages and guides participants to undertake coaching practice outside of the course.
Our Certified OKR Practitioner & Leadership Course will prepare you for the Certified OKR Professional. We will provide you with the Supervision needed to complete your accreditation application successfully. You will be able to submit your application for accreditation upon completing our Certified OKR Professional.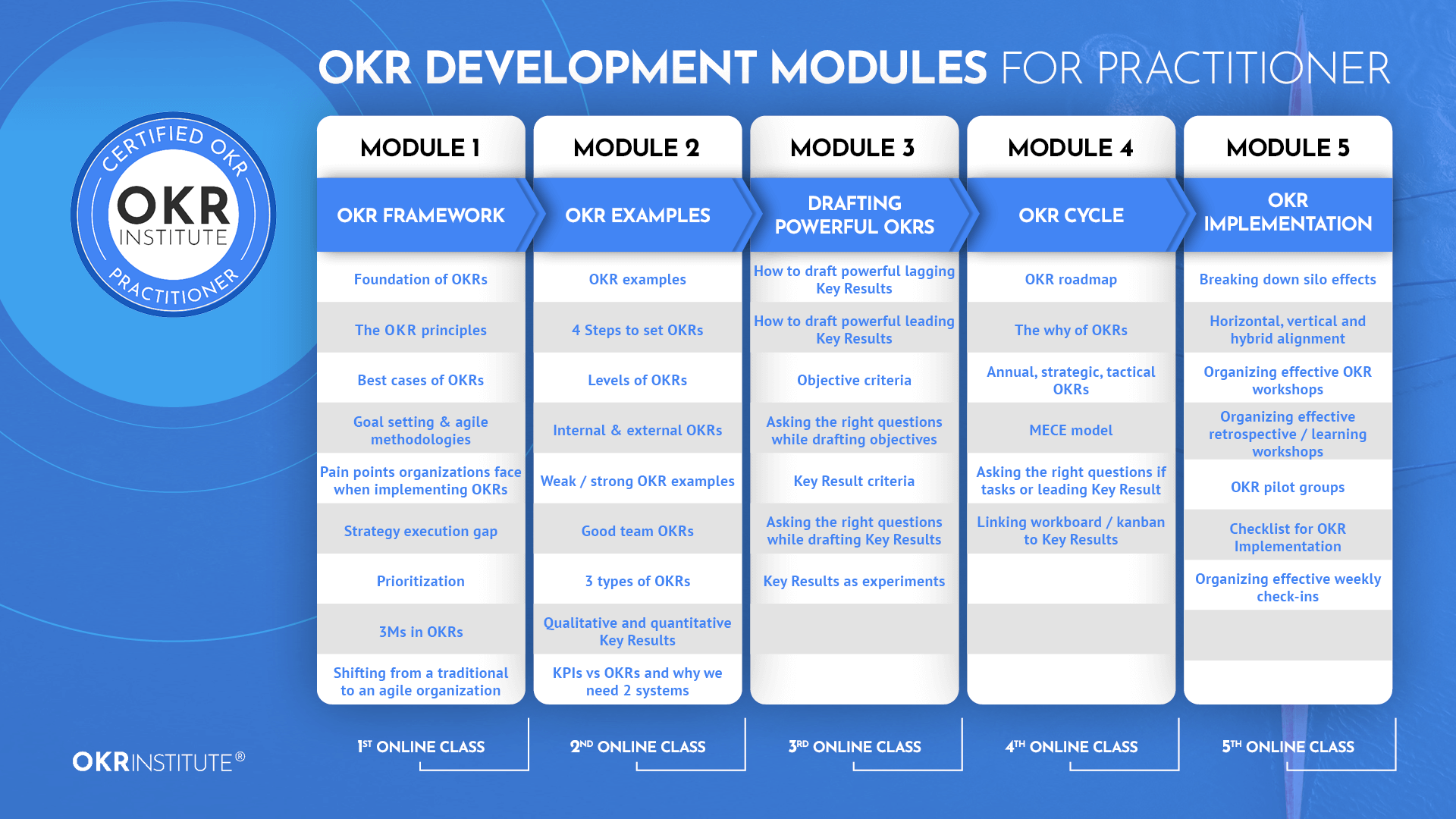 This OKR Practitioner Course comprises e-learning as well as live coaching sessions. Live coaching is conducted via zoom. Zoom links and google invites for each live coaching session will be sent to participants.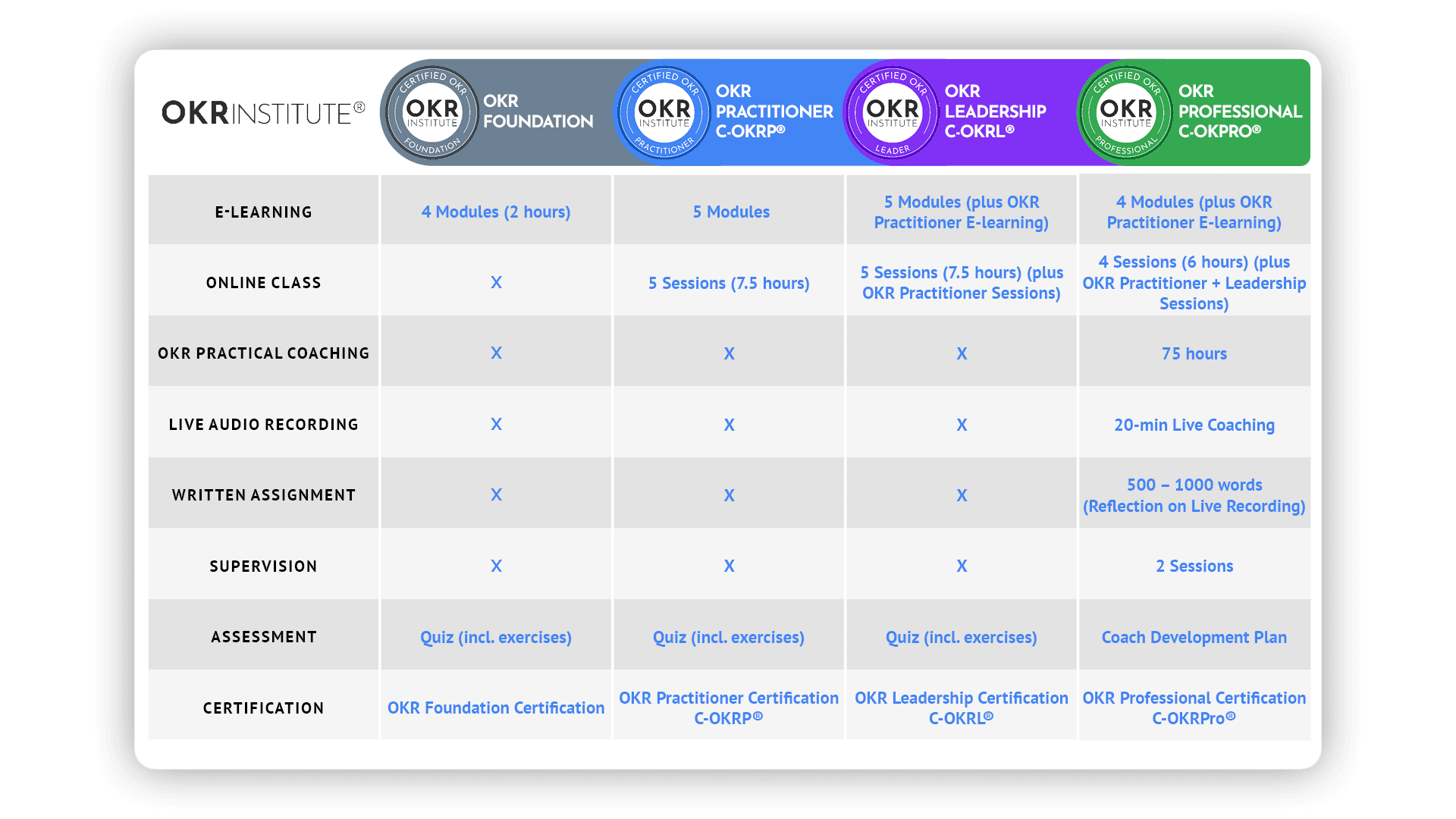 Upon completion of OKR Practitioner, you will be awarded with a certificate as Certified OKR Practitioner. This certificate serves as a pre-requisite for you to obtain the highest level of recognition in OKR education as a Certified OKR Professional.
Our OKR Practitioner Course offers you and your organization a new series of action-learning coach training targeted at managers, coaches and leaders who want to sharpen and advance their OKR coaching skills to become more effective OKR Coaches.