Certified OKR PROFESsional (C-OKRPro®)
Become a certified OKR Professional to coach others on Objectives and Key Results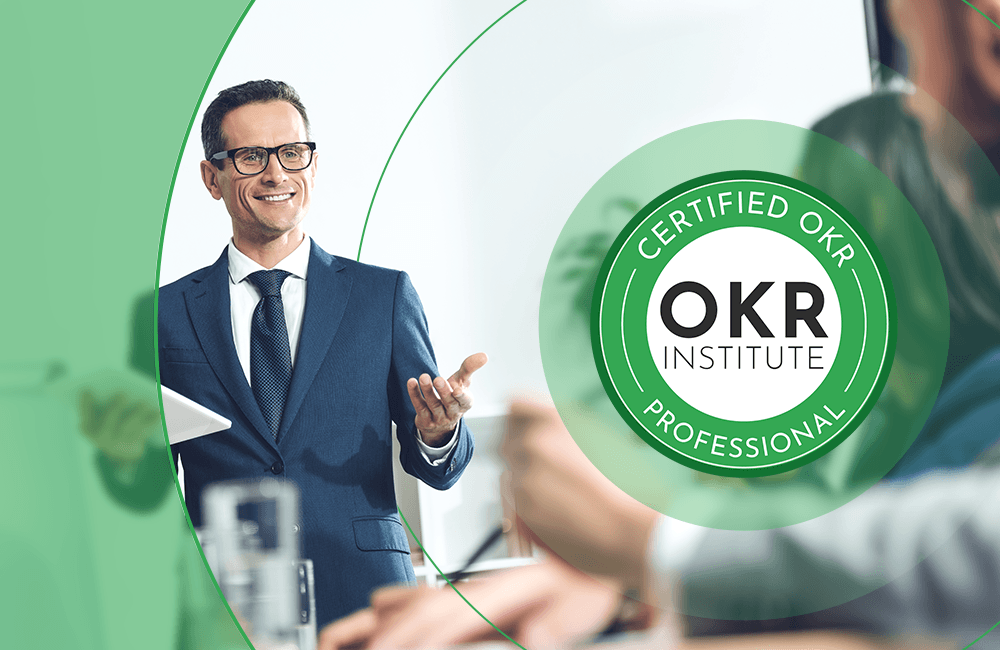 This OKR Professional Course starts with the first live Orientation session of 1.5 hours. During the Orientation Session, all practical assignments will be thoroughly explained, and access will be provided to all documents necessary for your preparation. The OKR Professional course is the OKR Institutes' signature 'COACH THE COACH MODEL', and you will be empowered to be an impactful OKR coach within your organization or for other Organizations as an external coach.
OKRI conducts in total 13 live sessions (each session lasts 1.5 hours + 3 hours Supervision sessions), one session every week. The Professional Course also includes the OKR Practitioner & Leadership Course. Participants will get access to the e-learning modules online certification exams.
For all those who want to master the advanced concepts of OKRs (Objectives and Key Results) and lead their companies (or customers) to manage objectives in this agile framework.
This certification enables OKR Certification holders to facilitate all levels of the OKR life cycle in their companies, from the development of good and strong OKRs to the deployment of tactical, strategic, and operational objectives, and monitoring progress with good governance, and discipline. Using this acquired knowledge, the certificate holder will make the OKR culture successful for all team members and managers in their organization.
Objectives and Key Results are considered the Agile methodology for managing objectives. The original concept came from Andy Grove, former CEO of Intel, and spread to other organizations in Silicon Valley. It enabled the growth of these companies.
It is an approach that is simple to understand and a challenge to apply, to create alignment and engagement around measurable objectives toward company strategies, mission, and vision. The objective is to ensure that everyone moves in the same direction, with clear priorities, at a constant pace. OKRs have been a standard agile tool for startups, as it provides proportional predictability of strategic positioning and prioritization.
---

Learn how to teach organizations & teams as a Professional Coach on OKRs
SKILL LEVEL
ADVANCED LEVEL
LANGUAGES
ENGLISH
LESSONS
13 LIVE SESSIONS + 3H SUPERVISION SESSIONS & E-LEARNING
DELIVERY
SUPERVISION, PRESENTATION & EXERCISES
CERTIFICATE
'CERTIFIED OKR PROFESSIONAL' UPON COURSE COMPLETION & EXAM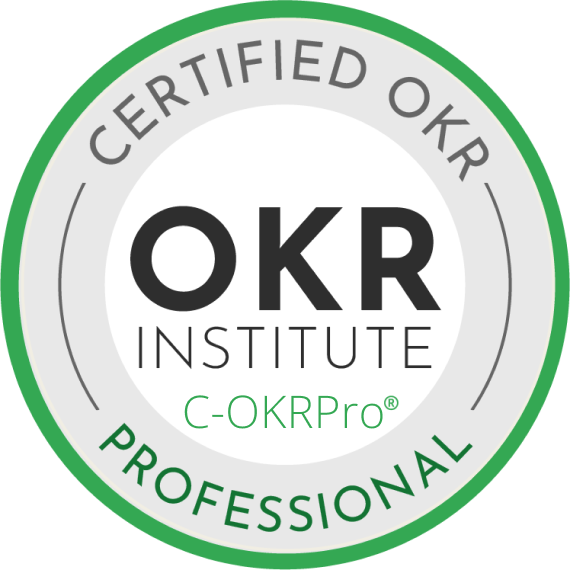 Learn how to overcome resistance to change.




Learn how to coach others to be successful at OKRs




Empowered to handle different coaching scenarios




Master the entire OKR Cycle in practice.




Learn how to align OKRs horizontally and vertically




Learn from pitfalls and successes and good practices that you can't learn anywhere else.




Analyze case studies for small to large companies.




Develop strategic planning via OKRs.




Develop product and project planning via OKRs.




Understand the adoption of OKRs for employees and company culture.



Learn to inegrate OKRs with other Agile and business frameworks




Learn to bridge the execution gap between management and teams.




Learn to foster team collaboration to mitigate silo effects.




Learn to conduct effective OKR Coaching Conversations.




How to build a High Performing Team.




Learn how to link OKRs to Performance Appraisals.




Learn the OKR Solutions Focused Approach.




Learn Performance Coaching Skills.




Develop OKR Culture Leadership Skill Set.



CEOs, Business Owners, HODs, and managers interested in an effective goal setting tool to thrive their business.




HR professionals interested in learning new techniques for evaluating performance.




Professionals from different areas, finance, customer success, production, logistics, IT etc.



Product Owners & Project Managers, who want to maximize the value of their deliverables.




Managers who already use a performance management system, but need to improve it. Professionals involved with Business Agility to learn a new way of the agile framework.




Performance, Agile Coaches and Trainers.
To have participated in the OKR Practitioner & Leadership workshop or to be a candidate who has the previous OKR knowledge that guarantees the fulfillment of the objectives evaluated in the certification exam. Successfully completed the OKR Practitioner & Leadership exams.
The OKR Practitioner & Leadership Course is included in the OKR Professional Course.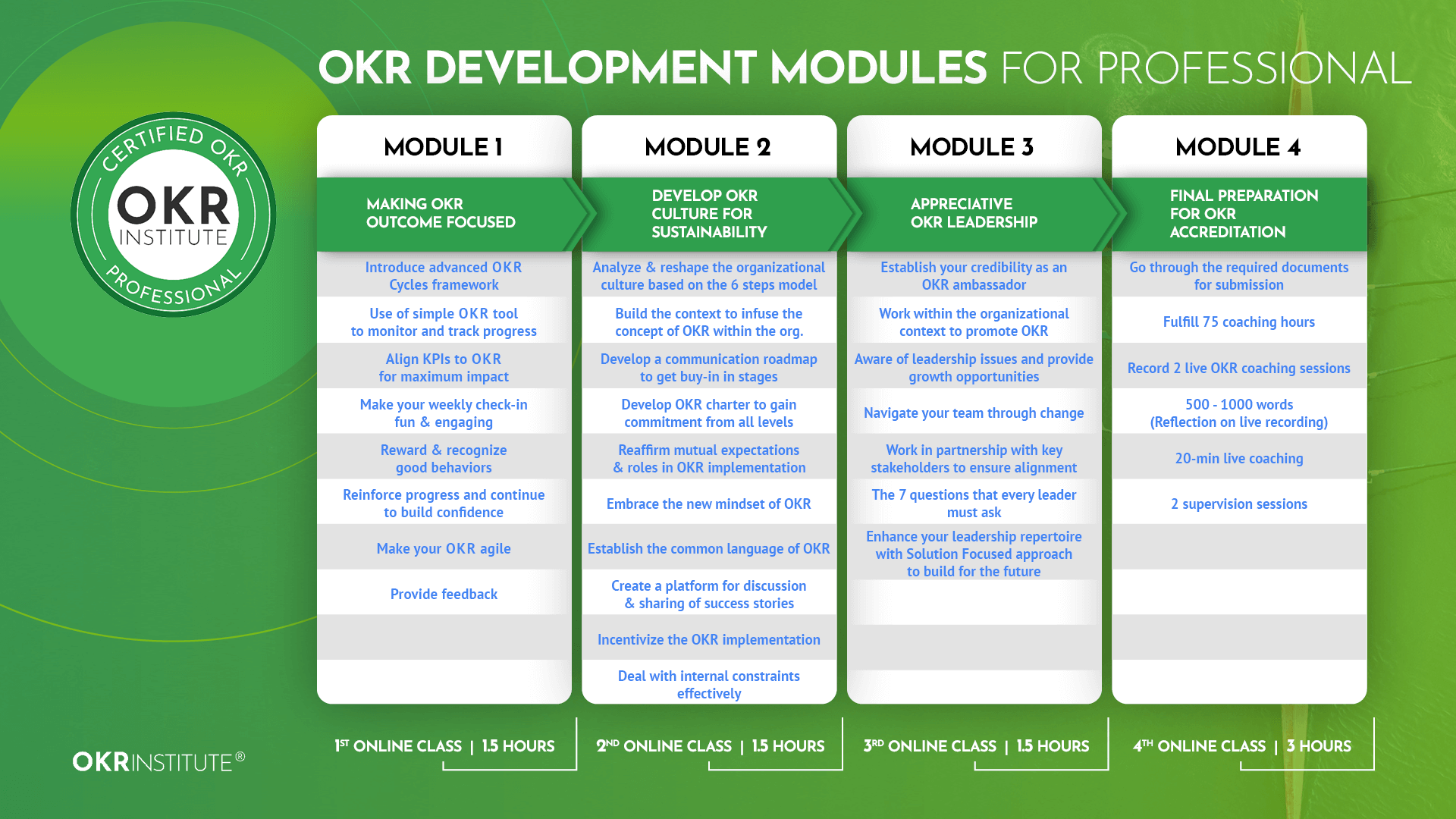 This OKR Professional Course comprises e-learning as well as live coaching sessions. Live coaching is conducted via zoom. Zoom links and google invites for each live coaching session will be sent to participants.