Your Journey to Become AN OKR EXPERT
Who shall attend the Courses?
Become A Professional Certified OKR Coach
OKR Institute
Tow distinct opportunities arise through the OKRI Certification Path:
1. Champion OKRs internally within your organization as an OKR coach and help teams achieve their desired outcomes.
2. Make a global impact as an external coach by helping organizations actualize their vision and strategies and create a culture of continuous improvement and performance.
Follow our OKRI certification path from Practitioner to Leader to OKR Professional and make an impact. OKRI certificates are internationally recognized by universities, coaching associations, and Fortune 500 organizations for setting the highest standards in OKR certification.
The Why and How Behind Becoming a Respected International OKR Coach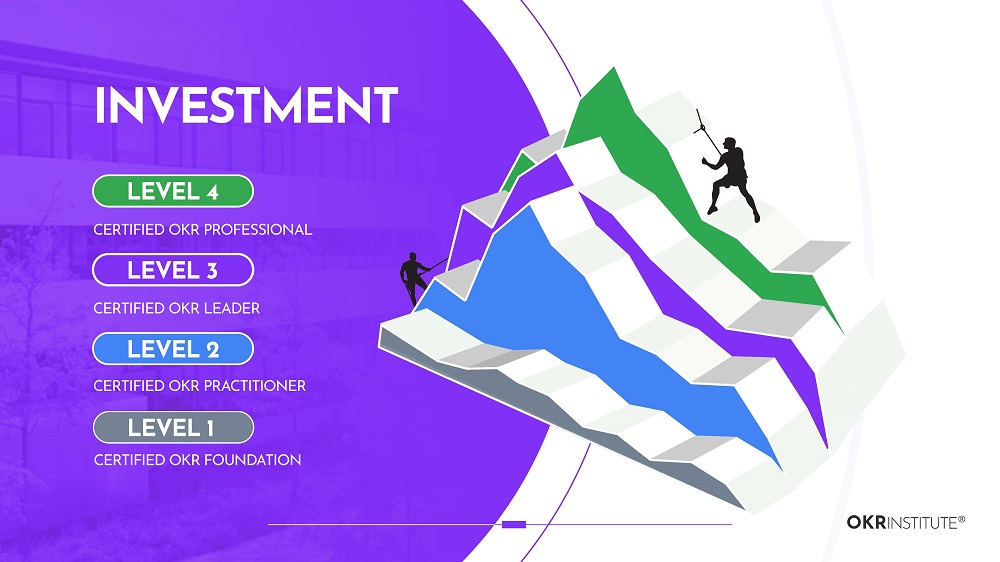 Why?
You can champion sustainable success in your organization through OKRs.

You can coach OKRs to a global audience and help organizations and teams to actualize their strategies & vision.

You can turn Objectives and Key Results into a professional career.
How?
Follow the clear path provided by the OKR Institute to become a well-equipped and successful OKR coach:

Foundation – Gain foundational knowledge of OKRs

Practitioner (C-OKRP®) – Draft, align & execute powerful OKRs

Leader (C-OKRL®) – Lead the sustainability and success of OKRs

Professional (C-OKRPro®) - Become a certified Professional OKR Coach