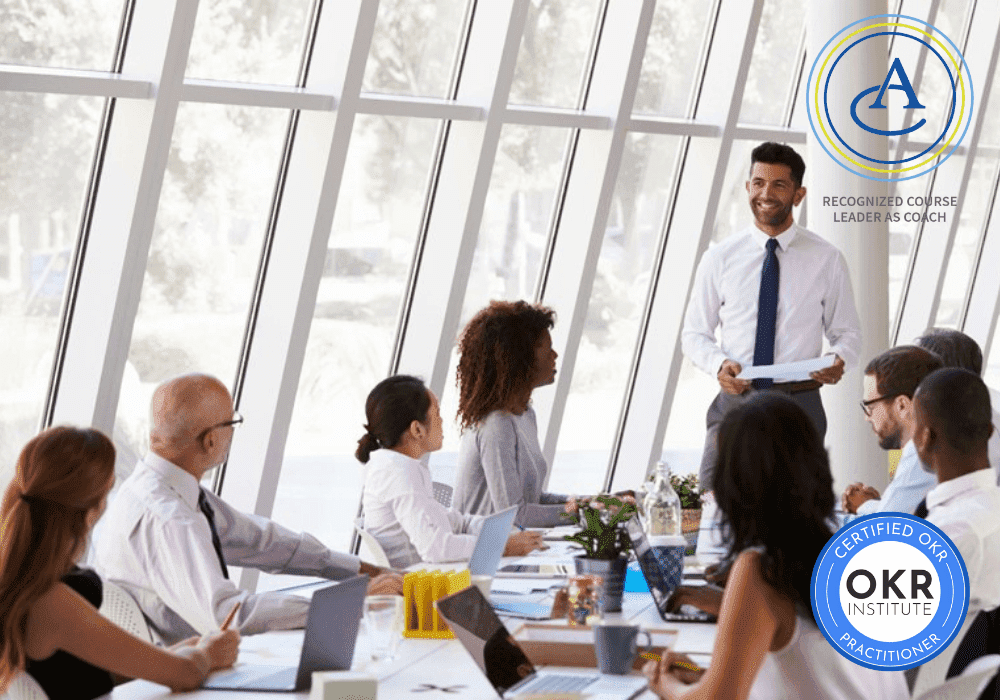 OKR PRACTITIONER COURSE
This OKR Practitioner Course starts with the first live session (1.5h each session via zoom with max. 5 participants) on Wednesday. A google invite including a zoom link will be sent to participants for each of the live sessions.
OKRI conducts in total 5 live sessions for this course; one session every week. The Participants will get access to the e-learning modules and online certification exam.
This course comprises the knowledge of the methodologies of the Objectives & Key Results (OKRs) framework and is based on best practices from real business environments and case studies.
Learn how to deploy OKRs successfully in your organization or for your clients. The OKR Coach will present all proven international agile OKR methods to you, so you are able to master – as an OKR Champion – all pitfalls to successfully align teams and team members and execute your strategies in the most effective and sustainable way.
The registration fee for this OKR Practitioner Certification includes:
5 Live Sessions (1.5h each session)
OKR Practitioner Certification 
Certification Exams in English
Soft Copy of Course Materials and Education Resources
Life Time Access to OKR Institute E-learning Platform
Agenda:
Foundation of OKRs
Drafting strong OKRs
Using OKRs in different industries, teams, and departments
Executing Strategies effectively via OKRs
Aligning Objectives and Key Results
Measuring & Tracking
Check-ins and feedbacks
Setting the OKR Cycle
Performance Appraisals
Learning from OKRs
By the end of the workshop you will master:
Successfully launch and implement OKRs in your organization
Get your business/organization laser-focused on what matters most
Draft Objectives that align with the Company's Strategies, Vision & Mission
Draft Key Results that measure the business outcome
Align your entire organization/teams around a common strategic direction
Facilitate teams in meaningful dialogue as they draft and align their own OKRs
Conduct reviews for cross-functional learning
Set healthy habits to build and grow your OKR muscle
Set Industry / Team-specific OKRs
You will be able to set OKR Scoring / Measurement
Set the right OKR Cycle according to the heartbeat of your teams and organization
Conduct effective OKR Coaching Feeback Conversations
Create a High Performing Team.
Apply the OKR Solutions Focused Approach
Audience Profile: 
C-Suite Executives
HODs
HR Practitioners
Project and Team Leaders
Coaches
Strategy Experts
Employees
Speakers
Dirk Schmellenkamp

OKR Coach

Dirk Schmellenkamp is an entrepreneur, business developer, and OKR coach. He began his OKR strategy consulting career 5 years ago by applying the Objectives and Key Results framework in his own company. The OKR framework system helped him to open 18 gyms in 5 different countries and to create high-performing teams. He has helped organizations worldwide to implement successfully OKRs in a sustainable way. Dirk has a Master's degree in Economics from the Copenhagen Business School (CBS) in Denmark and the University of Pforzheim, Germany. He worked for companies such as Porsche, Macquarie Bank, and Siemens and founded FlowyTeam (OKR and KPI software) and the OKR Institute.

Kevin Wong

Performance Coach

Kevin is an award-winning coach who has more than 20 years of experience in leadership development. Kevin is a sought-after goal-setting trainer, and peak performance coach. He was named "The 100 Most Influential Entrepreneur by Matrade. Kevin helped many large companies to improve on their performance and goal setting implementation: Fuji Xerox, Bosch, Huawei, Ascott Group, SHELL, Nestle, 3M, Mattel, Prudential, ING, HSBC, UOB, Maybank, Public Bank, Hong Leong Bank, RHB Bank, Affin Bank, EON Bank, Bank Muamalat, Great Eastern Life, AXA Affin, Manulife, Zurich, Maxis, and etc.

Simon Lee

Solution Focused Coach

Simon is a Master Executive Performance Coach. He is one of Asia's pioneer executive performance coaches, specializing in Solution Focused Coaching and Leadership within the OKR framework. Simon trained more than 10,000 senior managers on strength-based approaches. Simon is the first "Accredited Master Executive Coach" by AC (Association of Coaching) in the Asian region. He is credentialed by the AC in the UK, the "Canadian Council of Professional Certification", and the "International Coach Federation" in the US. He is a Certified Coach in Stakeholder Centered Coaching by Marshall Goldsmith and a Certified Higher Ground Leadership Coach.