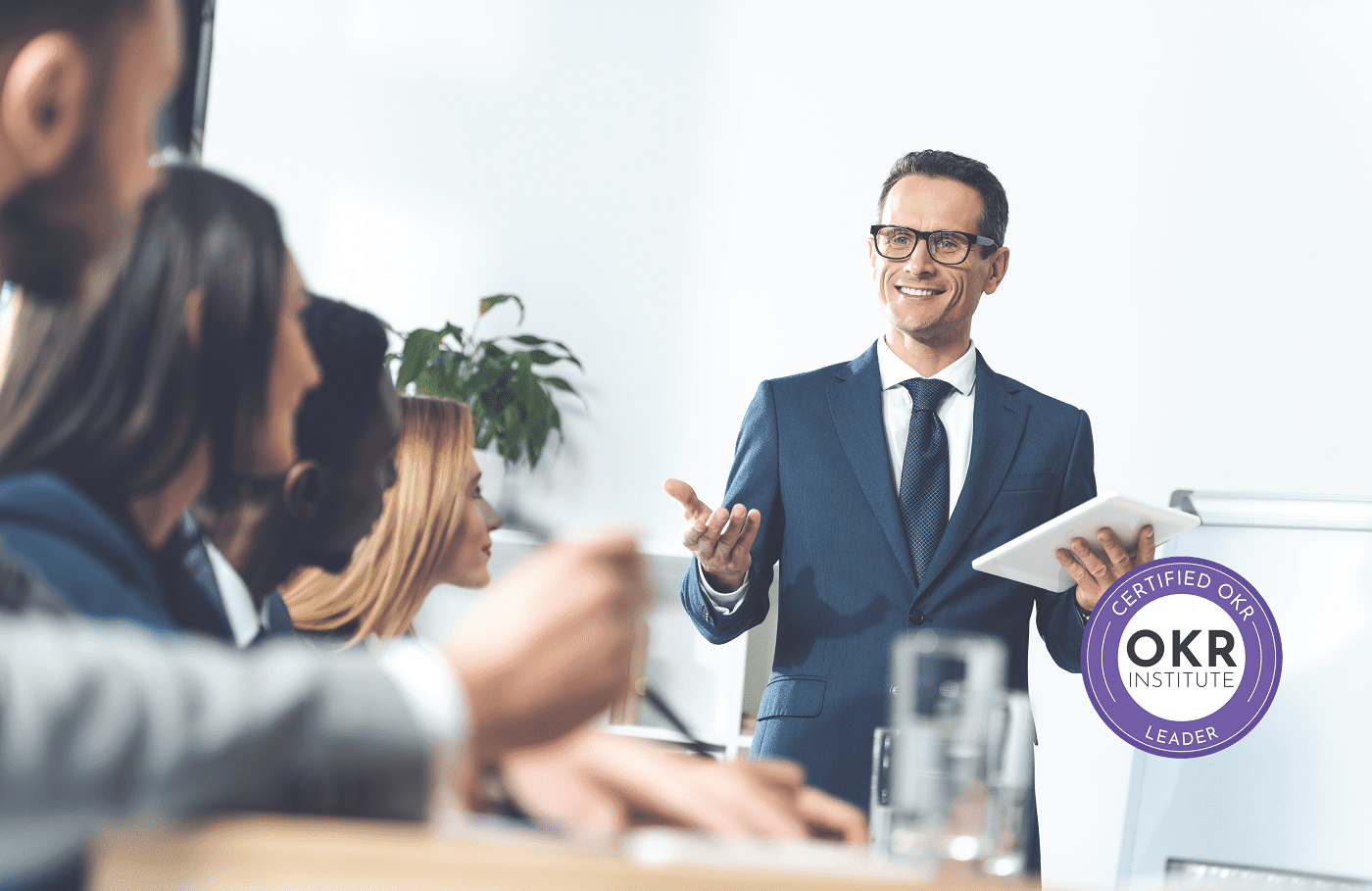 OKR LEADERSHIP COURSE
The OKR Leader certification course has OKR frameworks at its core. During this practical course, you will learn how to refine OKR frameworks further and align them to the company vision. Integration with the company value system is a key part of this course, as a values-based culture is essential to sustainable performance.
Objectives and Key results 'do not actualize themselves', and you will learn how to lead your team to success by being purpose-driven, fostering collaboration and utilizing the OKR Institutes 'Communication with an ROI' model to improve your check-ins, coaching and meetings around OKRs.
Leadership is about creating more leaders. With more leaders on your team, reaching targets does not become easy, but it becomes significantly easier.
Uplifting the engagement levels of your team is essential and is another core element addressed during this course.
Course Outcomes:
Refine your OKR frameworks
Align your OKR frameworks to the Vision of the company
Integrate the value system and OKR frameworks of the company
Make the value system of your company practical and create behavioral standards
Learn how to communicate with a strong return on investment during coaching sessions, check-ins and meetings
Create more leaders in your team
Build more quality into your OKR frameworks
Uplift the engagement levels of your team
Learn how to be purpose-driven
Learn how to build a sustainable high-performance culture
The registration fee for this OKR Leadership Certification includes the following:
10 Live Sessions (1.5h each session)
OKR Leadership Certification (C-OKRL®)
Certification Exams in English
Soft Copy of Course Materials and Education Resources
Life Time Access to OKR Institute E-learning Platform
Audience profile:
Entrepreneurs, Founders, Leadership teams, managers, consultants and coaches who want to refine their leadership skills in achieving sustainable OKR success.
HR directors and managers who want to unleash the potential of their teams.
Product owners and product managers who want to manage and improve their deliverables.
Managers who already use a performance management system but want to improve.
Performance coaches.
Prerequisites:
Have to possess good knowledge of OKRs – Attended OKR course or have practical experience with OKRs
Desire to Learn practical Leadership and management strategies that improve team collaboration, engagement, and performance.
Desire to improve coaching, team support, and collaboration.
Instructor
Dirk Coetsee

Talent Development Director of the OKR Institute